Big Fish – Movie Review
This Fish Flounders Without The Hook
By Fred H. Arm
When I heard that director Tim Burton (Batman, Edward Scissorhands, Planet of the Apes, Sleepy Hollow) directed this tale, I assumed that an extraordinary saga would unfold on the screen as something unnatural and weird, yet entertaining. Weird it was, yet it often failed to convey a story. Rather it made some attempts at reconciling Edward Bloom's (Albert Finney as the dying old Bloom and Ewan McGregor as young Bloom) tall yarns he would tell repeatedly to anyone who would listen and especially to his son Will Bloom (Billy Crudup). Will soon learned to disbelieve all of his father's fantastic stories and ultimately became totally estranged from his father, whether as a result of shame or the lack of intimacy and connection with his father. His mother, the ever-smiling Sandy Bloom (Jessica Lange), lends little of her stellar talents to this wooden role.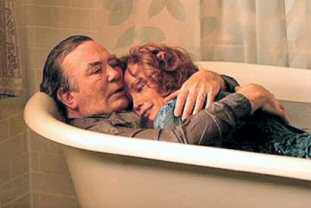 The fables as they unfold are truly implausible and often border on the ridiculous. Clearly, one is left with the same mindset as the son Will, that Edward is a huge bullshitter who may have trouble separating fact from fantasy. The story or stories are told in confusing flashbacks, sometimes in a true Tim Burton fantasy and sometimes in what appears to be a vaudeville style. The characters are indeed colorful and weird such as the ringmaster of the Circus Amos (Danny DeVito) and the Colossus (George McArthur). It borrows heavily in fantasy style from other recent fantasies like the Truman Show, Harry Potter, and Lord of the Rings, yet does not come close to telling a story with clarity and style.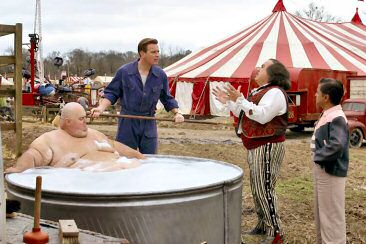 The film jumps from clarity to confusion and back to rationality and clarity. We are touched that the son ultimately appears at his dying father's bedside and attempts to find out who his father really is. There are many seeing the picture who will be quite taken by its symbolism, fantasy, and fatherly machinations. For myself, this film could have been written in a much more coherent manner and revealing much, much more of the possible intimacy that can exist between father and son. The comedic routines are quite funny and Burton seems to have the timing down quite well. However, its humorous sequences are not enough to carry the film or to carry the story from scene-to-scene.
The ending is predictable early in the film and clichéd at best. Helena Bonham Carter's talents are wasted as Jenny, the child becoming adult who had her eyes on Edward since he was a young man. She also plays a more interesting role as a witch in this flick, but it also falls flat and gets placed on the shelf with the rest of the cast that have not been adequately developed. This is a picture that you will either love or simple discard as too much weirdness and lacking coherence. Obviously, you know where I stand.
Opens everywhere December 25th in the Bay Area.

Posted by fredarm at December 11, 2003 04:09 PM