North Country – A Movie Review
Beauty Tames The Male Beast
By Fred H. Arm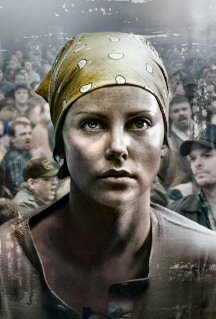 When you merge an extremely gorgeous woman and mother of little ones who has been abused by her ex-husband and who needs a job desperately, with a mining operation that employs mostly blue-collar workers, you have an explosive mix that spells sexual harassment with a capital "S". When Josey Aimes (Academy Award winner CHARLIZE THERON) returns to her hometown in Northern Minnesota after a failed marriage, she needs a good job. A single mother with two children to support, she turns to the predominant source of employment in the region –the iron mines.
It's an industry long dominated by men, in a place unaccustomed to change. Encouraged by her old friend Glory (Academy Award winner FRANCES McDORMAND), one of the few female miners in town, Josey joins the ranks of those laboring to blast ore from rock in the gaping quarries. She is prepared for the backbreaking and often dangerous work, yet coping with the harassment she and the other female miners encounter from their male coworkers proves far more challenging.
Times are tough. The last thing the miners want is women competing for scarce jobs –women who, in the men's estimation, have no business driving trucks and hauling rock anyway. If these newcomers want to work the mines, they will have to do it on the terms set by the veteran workforce and it will not be easy. Take it or leave it.
When Josey speaks out against the treatment she and her fellow workers face she is met with resistance – not only from those in power but from a community that doesn't want to hear the truth, her disapproving mother (SISSY SPACEK), her sullen, rejecting father (RICHARD JENKINS), and many of her own colleagues who fear she is only making things worse. In time, even her friendship with Glory will be tested. Her already difficult connection with her father, a lifelong miner, will be pushed to its limit and elements of her personal life will be exposed to scrutiny. The fallout from Josey's battle to make a better future for herself and her children will affect every aspect of her life, including her relationship with her young daughter and her sensitive teenage son, who must first cope with the embarrassment of his mother's sudden notoriety and then face harsh details of her past she was hoping he would never have to know.


Through these struggles, Josey will find the courage to stand up for what she believes in –even if that means standing alone. Inspired by a true story, "North Country" follows Josey's journey on a road that will take her farther than she ever imagined, ultimately inspiring countless others, and leading to the nation's first-ever class action lawsuit for sexual harassment.
When Josey takes a stand against the mining company where she works, "she isn't looking to become a leader or make a statement," says "North Country" director Niki Caro, whose insightful direction and screenplay for 2002's magical Whale Rider earned accolades worldwide. "She just wants what every parent wants, to make a decent life for herself and her family." It starts out just that basic and personal. "She doesn't realize she is launching herself into the battle of her life."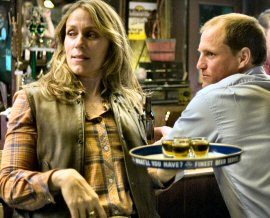 Josey's growing commitment to be heard finally finds an unexpected ally in Bill White (Academy Award nominee WOODY HARRELSON), a hometown lawyer newly returned from his own personal and professional disappointments in New York. Knowing she has little chance of winning on her own, White attempts to break legal ground with Josey by filing an unprecedented class action lawsuit for sexual harassment – provided they can get others to join in.
It is a little incredulous to see such a beauty amongst the apparent bull dykes working at the mine, who incidentally are also sexual harassed by the men, if you can believe that one. The initial switching back and forth with flashbacks are a little confusion, however, the film soon settles in as the drama unfolds. Surely Charlize will get another Academy Award nomination for her role, as well may Richard Jenkins as best supporting actor who plays her father. He is a character that most everyone has seen in supporting roles, yet is doubtful that few can remember what his name is.
This is an outstanding film that is well paced and deeply involving. Women most particularly will be inflamed and then vicariously enjoy evening the score. The courtroom scene has great dramatic moments to relish; however, stretches the realm of reality and credibility somewhat. Outstanding performances by many of the cast make this film a feast for discriminating viewers. Crisp writing by screenwriter Michael Seitzman with such lines by WOODY HARRELSON as he is fending off the affections of a much younger woman like, "I've got underwear that's older than you", are priceless. Do not miss this one, but leave the kids at home.
Posted by fredarm at October 24, 2005 08:32 PM