Starsksy & Hutch - Movie Review
A Trip Down Memory Lane With Laughs
By Fred H. Arm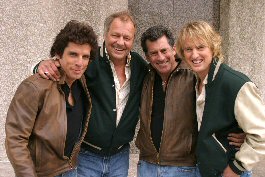 How refreshing! Good old-fashioned entertainment - just what the doctor ordered. The crime fighting duo of the 70's TV hit, Starsky & Hutch, comes to the wide screen with more laughs and fun than the small tube provided when most of you were either not born yet or still in swaddling clothes. Played by Ben Stiller as Starsky and Owen Wilson as Hutch, they provide a more exaggerated and fun contrast in personalities than the original video cast.
The implausible plot does not mean much, since it is just a vehicle to provide situations where absurd, improbable, and oftentimes hilarious situations can flourish to evoke laughter and a tongue-in-cheek parody of traditional buddy-cop movies. Platinum-selling rapper, Snoop Dogg, is well cast as Hutch's informant, insider, and friend, Huggy Bear.
The villain in this piece, Vince Vaughn, is a little miscast, since he comes across more as a shoe clerk than as a king-pin drug dealer. Nevertheless, that incongruity itself is laughable and does not distract from the hilarious antics of pair. The director, Todd Phillips, provided just the right amount of bouncy pulchritude and sexuality to decorate the settings as a prelude to the next set of giggles.
The film is fun, fast, and nostalgic; however, it is not nearly as hilarious as Ben Stiller's 1998 film, "There's Something About Mary". A good night's entertainment, without the possibility of Oscar nominations. So what!
Opens everywhere today.

Posted by fredarm at March 5, 2004 09:46 AM