Karen and Sandy Tie The Knot
Prominent Pt Richmond Couple Wed In San Francisco
By Fred H. Arm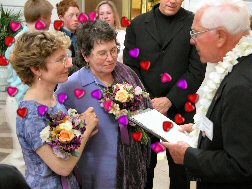 Fellow Point Richmondites and the rest of the world, take notice: the infamous "Count Blogula", Karen Schneider, writer of "My Point" and other media communiqués, wed her partner, associate Minister Sandy Hulse, in a moving double ring ceremony on March 5th at the San Francisco City Hall. Inspired by the recent fervor of thousands of other couples and the blessings of the courageous Mayor of San Francisco, Gavin Newson, the happy couple trekked to the City to be married on the Rotunda steps of the City Hall. At the same time, dozens of other couples were also wed throughout the Rotunda as video cameras and digital cameras recorded the blessed events.
One thing that distinguishes the gay marriages performed at City Hall when I compare them to conventional marriages I have seen is the profound joy and ecstasy on the faces of the gay and lesbian couples. It was profoundly moving. I want to thank Sandy and Karen for giving me the opportunity to experience so much happiness in one room. It made me tearful to experience such joy rather the stressful anxiety normally present at straight, conventional ceremonies. It was also an honor to be there.
I cannot fathom why so many elements of our society would want to deprive gays and lesbians the right to pursue such pleasure and happiness. Perhaps it is because some straights are so miserable that they want to make others suffer by depriving them of the prospect the rest of the nation can legally take pleasure in. Whatever it is, they are certainly missing out. Oh well, once upon a time women could not vote either.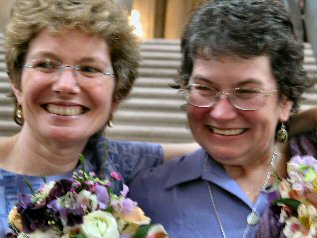 So congratulations again Sandy and Karen and may you experience every day of your lives with as much happiness you enjoyed on your wedding day. We love you. Mazel tof!

Posted by fredarm at March 18, 2004 10:58 AM