Ella Enchantment – Movie Review
A Splendid Romp in Fairland
by Fred H. Arm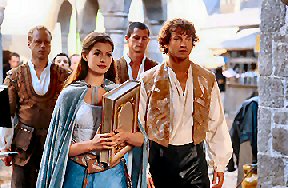 Given Hollywood's penchant for mean-spirited violent films, "Ella Enchanted" is a refreshing frolic into imagination and fun. A funny takeoff on the ancient principles of fairy tales, in what could be construed as a live-action version of "Shrek," characters and values drawn from a contemporary shopping-mall culture. The film is basically a spoof of Cinderella in which the title character Ella (Ann Hathaway of "Princess Diaries" fame"), who has been stricken with a spell that compels her to be obedient to any command, spends her free time along with her cousin Mandy (Minnie Driver), protesting discriminatory practices against the kingdoms of elves and ogres. She quickly becomes enmeshed with the soon-to-be-king and teen heartthrob, Prince Charmond (Hugh Dancy) who is unaware of the evil machinations of his uncle (Cary Elwes). What Ella really wants is not love; instead, she wants to become free of the obedient spell that her evil stepmother and stepsisters have unreasonably exploited.
In spite of the action taking place in a land hundreds of years ago, the tongue-in-cheek dialogue, and the music is very twenty-first century. Much of the shtick is quite humorous with scenes such as the ogres wearing their pants with the crack of their butt's exposed like present-day gang members or your local plumbing contractor. The film should not be taken too seriously. It is just simple fun, with many so-so funny one-liners, and the opportunity to escape without being hammered by blood and guts.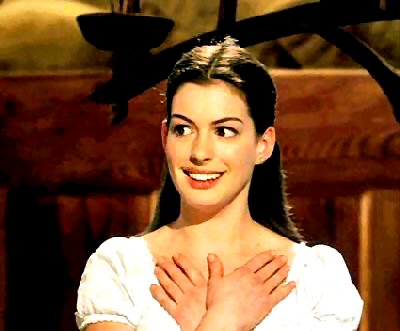 The film was adapted from the best-selling novel written by Gail Carson Levine and is directed by Tommy O'Haver ("Get Over It" and "Billy Holiday's Screen Kiss"). The cast also includes Joanna Lumley (Absolutely Fabulous"), Eric Idle (Monty Python") and Steve Coogan ("24 Hour Party People"). This little fairy tale won't win any academy awards, but it's good clean fun set off by a really nasty and evil uncle you learn to hate rather early in the movie. Unfortunately, Minnie Driver's role is quite subordinate to Ella's and very little of her fine talent is exposed. Ella may seem a little too sweet, but she is feisty in her own right and delivers quite a nimble exhibition of retaliation and martial arts against the wickedness of the kingdom's heavies.

Posted by fredarm at April 9, 2004 09:55 AM