April 20, 2004
La Vie Promise – A Movie Review
(The Promise of Life)
By Fred H. Arm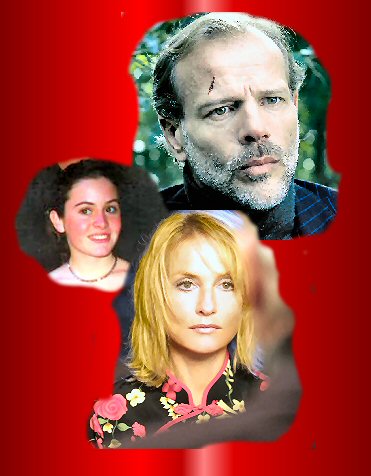 "La Vie Promise" ("The Promised Life") is among the French actress' Isabelle Huppert's finest accomplishments. This amazing masterpiece presents Huppert in a character, which is a combination abrasiveness and vulnerability, she is both exasperating and at the same time pathetic, monstrous, and saintly. It is difficult to envision another actress who could embrace the complexity of her character and yet still present her persona in such an intriguing paradigm of humanity who magically captures our full attention while taking our breath away.
It seems palpably unfair when such other female film stars as Halle Berry, Julia Roberts, or Renee Zellweger win Academy Awards, whereas Isabelle Huppert has never been nominated for an Oscar. Over the last thirty years, this effervescent French actress has put forth a series of remarkable performances, capturing every aspects of the human experience with style and panache. Check out her brilliant performances in "Madame Bovary," "Merci pour le Chocolat" and "The Piano Player" or the delightful weirdness of "8 Women".
Huppert's role is that of Sylvia, a sullen prostitute walking the streets of Nice in France, seemingly frozen in time with an obsolete sense of her rebellious prerogative. When the cameras dolly in for a close-up, her heavy cosmetic attempt to preserve the illusion of youth reveal their exercise in futility. Her brittle, oftentimes hostile attitude is typical of what one would expect of a seasoned hooker.
Sylvia seems in charge of her life until the appearance of her 14-year-old epileptic daughter Laurence (Maud Forget). Laurence is in foster care and Sylvia would prefer to have her out of her life, which becomes obvious by her callous rejection and disrespect even though it was Laurence's birthday. Laurence, desperate for attention, turns up again unexpectedly in Sylvia's apartment and observes her mother's pimp pummeling her. When the pimp's associate turns his attention to Laurence by sexually attacking her, she fatally stabs him, thus compelling mother and daughter to hastily leave town.
Eight years earlier, Sylvia had a nervous breakdown and was hospitalized after giving birth to a son. The boy's father (whether he was married to her or not is not clear) lived in the north of France. Out of some sort of mysterious compulsion, she and Laurence journey North, traveling by train, on foot and hitching rides with strangers; in order to seek out her long abandoned son and his father, who represent perhaps a new beginning or sanctuary. It is on this journey that mother and daughter begin to experience each other as the seeds of love kindle what had been lost over the harsh years. While hitchhiking they encounter Joshua, (Pascal Greggory), a car thief and escaped convict who has taken an interest in the well being of Sylvia and Laurence and ultimately takes the time to bring them to their final destination.
The film has the inspiring appeal of a half-told chronicle where significant and intriguing passages are casually left unexplained. The full meaning and resolution of Sylvia's relationship with Laurence and Joshua's criminal career remain delightfully obscured; leaving us just enough information to maintain our interest, yet preserving the mystery that tweaks our attention. The audience must search their own repertoires of imaginations to conclude the story.
Director Olivier Dahan is daring enough to bring his camera into tight close-ups leaving Huppert's character displayed in unflattering poses while wearing harsh make-up and in poor lighting. Huppert does not attempt hide behind the cheap make-up in order to present a good performance. Her talent is sufficiently powerful to reveal Sylvia's inner strength and bring her true character bubbling to the surface. Her painted exterior suggests one stereotype while her eyes tell yet another story. This is an extraordinary film not to be missed.
Opens in limited engagements on Friday, April 23, 2004 at a Landmark theatre in San Francisco (Opera Plaza or Lumiere) and at Landmark's Act 1 & 2 in Berkeley.

Posted by fredarm at
12:25 PM
|
Comments (1)
April 09, 2004
Ella Enchantment – Movie Review
A Splendid Romp in Fairland
by Fred H. Arm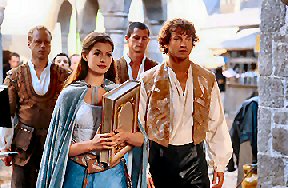 Given Hollywood's penchant for mean-spirited violent films, "Ella Enchanted" is a refreshing frolic into imagination and fun. A funny takeoff on the ancient principles of fairy tales, in what could be construed as a live-action version of "Shrek," characters and values drawn from a contemporary shopping-mall culture. The film is basically a spoof of Cinderella in which the title character Ella (Ann Hathaway of "Princess Diaries" fame"), who has been stricken with a spell that compels her to be obedient to any command, spends her free time along with her cousin Mandy (Minnie Driver), protesting discriminatory practices against the kingdoms of elves and ogres. She quickly becomes enmeshed with the soon-to-be-king and teen heartthrob, Prince Charmond (Hugh Dancy) who is unaware of the evil machinations of his uncle (Cary Elwes). What Ella really wants is not love; instead, she wants to become free of the obedient spell that her evil stepmother and stepsisters have unreasonably exploited.
In spite of the action taking place in a land hundreds of years ago, the tongue-in-cheek dialogue, and the music is very twenty-first century. Much of the shtick is quite humorous with scenes such as the ogres wearing their pants with the crack of their butt's exposed like present-day gang members or your local plumbing contractor. The film should not be taken too seriously. It is just simple fun, with many so-so funny one-liners, and the opportunity to escape without being hammered by blood and guts.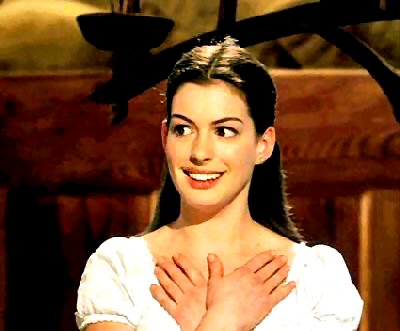 The film was adapted from the best-selling novel written by Gail Carson Levine and is directed by Tommy O'Haver ("Get Over It" and "Billy Holiday's Screen Kiss"). The cast also includes Joanna Lumley (Absolutely Fabulous"), Eric Idle (Monty Python") and Steve Coogan ("24 Hour Party People"). This little fairy tale won't win any academy awards, but it's good clean fun set off by a really nasty and evil uncle you learn to hate rather early in the movie. Unfortunately, Minnie Driver's role is quite subordinate to Ella's and very little of her fine talent is exposed. Ella may seem a little too sweet, but she is feisty in her own right and delivers quite a nimble exhibition of retaliation and martial arts against the wickedness of the kingdom's heavies.

Posted by fredarm at
09:55 AM
|
Comments (0)
April 05, 2004
It's Those Feuding Council-People Again!
Richmond's Fiscal Crisis Generates Unnecessary Blaming Contests
By Fred H. Arm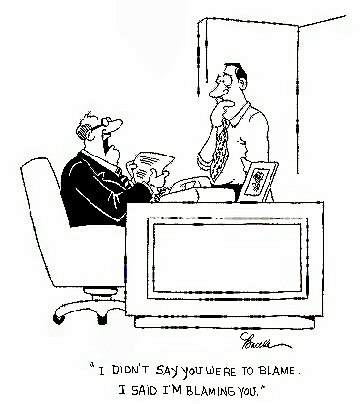 Here we go again! It's not bad enough to have a budget $35 million in the red, but to have to endure the endless blaming and hostility between the staff, council-people, mayor and administration, can be a bit daunting. No matter who carries the lion's share of blame in Richmond, the plain facts are that everyone has some share in the culpability--either for their own actions or their inactions, it matters not. So what!
Unless they can all learn to work together to resolve the crisis, the crisis promises only to get worse as the bickering continues. The common denominator for this group of Rocket Scientists shares is plain and simple--fear. The employees fear the loss of their jobs, the administration fears going into bankruptcy, and the remainder fear that their fragile egos may somehow become impaired. So let's get real and do something about it!
Unfortunately, very few of the players have any idea how to run a business, (let alone a city) so they simply try to run it like a traditional government bureaucracy. This theory no longer has any validity in the twenty-first century. It takes a businessman or woman to effectively cure the problem and then to insure that it does not happen again. If a proper consultant were hired aboard with carte blanche authority to clean up the mess, it would be only a matter of weeks until the "cure" begins to take effect. It takes courage to hire someone of that caliber.
The alternative is to simply file bankruptcy. Once protected by the Federal Court system, the recalcitrant City Council and their employee's union could begin again from square one. The onerous salaries, pensions, and the like would likely be drastically reduced to a level compatible with the revenues received from our taxes.
By the way, speaking of taxes, this how we our civil servants receive their pay: We each pay hundreds and thousands of dollars a year in real estate, sales, utilities, etc, tax to the City to protect us from fire, crime, regulate business, fix our streets, and generally run the City. If we had hired a contractor to do the job we would have simply fired them long ago and found a replacement. Why can they not run an efficient city on $90+ million a year of our tax money? Good question. Maybe we should just fire the city and do it ourselves? Food for thought, eh?
It is time to bury the hatchet and choose the path for our future. Richmond could be quite the city under the proper leadership. Is there a leader among us strong enough to face down all the hostility, special interests, and opposition? Is there anyone out there that cares enough to make a real difference? It can be done given the right leadership and the courage to make a difference. Where is the Terminator when we need him?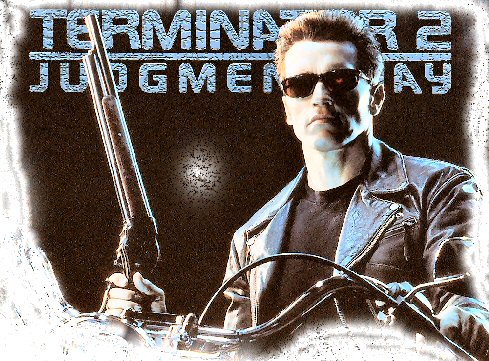 Posted by fredarm at
06:42 PM
|
Comments (0)